---
Pressure Perfect uses paced breathing therapy to help you to lower your high blood pressure. In this relaxed state, blood flows with less resistance and blood pressure goes down. When we do paced breathing exercises on a regular basis our "flight or fight" response decreases, thus reducing blood pressure throughout the day.
See how easy it is to use Pressure Perfect!
Pressure Perfect - The Drug-Free Way To Breathe Your Way To Lower Blood Pressure!
High Blood Pressure Is Never Okay!

Doctors may use many different ways to treat our high blood pressure but one thing that everyone agrees on - high blood pressure is never okay and we need to do all that we can to keep our hypertension under control.

What is Pressure Perfect?
Pressure Perfect is an easy to use but powerful paced breathing program that will help you to reduce your blood pressure without dangerous drugs. Did you know that you could reduce your blood pressure with relaxing breathing exercises? With the Pressure Perfect Program, just follow the simple on-screen prompts and you'll be breathing your way to lower blood pressure in no time. The program is available in DVD format or our new instant digital download format.
How A Routine Pre-Op Exam Changed My Life:
Hello, my name is Joel Miller and after failing a routine physical because of my high blood pressure, I was immediately put on blood pressure medication. After many months of suffering from very unpleasant side effects, I decided to take matters into my own hands by researching natural blood pressure reduction alternatives.
I'm living proof that the Pressure Perfect system works. The Pressure Perfect program of paced breathing exercises has lowered my blood pressure to normal level without the use of medication and has eliminated the nasty side effects I was suffering. Just click on the video below to hear my story.
Just Click On The Video Below To See How Simple It Is To Use The Pressure Perfect:


How Does Pressure Perfect Work?


Pressure Perfect combines the powerful combination of paced moderate deep-breathing exercises to safely lower high blood pressure. Medical research has shown that regular paced breathing exercises can help you to lower and maintain a healthy blood pressure.
We All Have The Ability to Learn to Relax and Naturally Lower Our Blood Pressure!


With the Pressure Perfect Program DVD, you'll be breathing your way to lower blood pressure in no time. No complicated instructions to learn - the easy on-screen prompts will guide you through the perfectly paced breathing exercises. You'll be relaxed and on your way to lower blood pressure in just minutes.
If You or a Loved One Has High Blood Pressure, Here's What you Should Do Next!
Try the Pressure Perfect Program at our risk for the next 30 days. If you're not completely satisfied, you may return your Pressure Perfect for a quick and courteous refund. The expensive high-tech paced breathing units will cost you $300 or more. Our easy to use Pressure Perfect Program sells for the amazing low price of just $24.95 and comes with our full 30-day money-back guarantee!
Here's What You'll Get:
The Pressure Perfect kit includes:
The Pressure Perfect Program DVD, Instructions and a blood pressure record chart to keep track of your progress.
The instant download digital videos are the same as the DVD but are compatible with ipad, ipod, smartphones, notebooks, tablets and other portable devices. This way you can use the Pressure Perfect even when you don't have access to a DVD player!
For A Limited Time - Free Shipping!
For a limited time, USA residents will receive free first-class ground shipping with every Pressure Perfect order!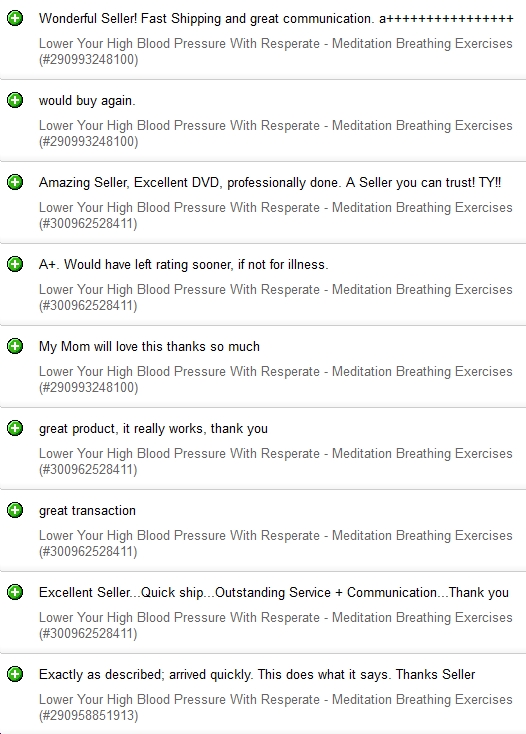 Pressure Perfect Questions and Answers:


Q. I'm already on high blood pressure medication. May I still use Pressure Perfect?

A. Absolutely! Be sure to let your physician know that you are going to use Pressure Perfect so that you can both monitor your progress. DO NOT discontinue taking your current medication! If Pressure Perfect works well for you, you will probably be able to reduce the need for your medication. In my case, I was able to completely eliminate drug therapy for my hypertension.

Q. Will Pressure Perfect make my blood pressure too low?

A. No. Pressure Perfect has a "normalizing" effect on the body and will not cause your blood pressure to go too low.

Q. Does Pressure Perfect have any side effects?

A. No. Pressure Perfect is not a drug and is safe to use with all your current drug therapies.The only side effect I noticed was a sense of relaxation, better sleep patterns (I use it right before I go to bed) and a reduction in my blood pressure.

Q. How often do I need to use the Pressure Perfect and how long does a Pressure Perfect session take?

A. You will get the most benefit from your Pressure Perfect if you use it every day but even if you only use it three to four days a week you should still see positive results. Each relaxing Pressure Perfect session lasts 15 minutes.

Q. If I quit using Pressure Perfect will my blood pressure go back up?

A. Yes. To achieve the therapeutic effect from using Pressure Perfect, you should use it on a regular basis.

Q. How much am I going to be charged for shipping?

A. For a limited time, ground shipping is free of charge to US residents.

Q. What if Pressure Perfect doesn't work for me is there a guarantee?

A. Yes, Pressure Perfect is covered by a thirty-day money-back guarantee. Just contact us first to receive your return authorization number. Return shipping is at the sender's expense.
---
Coose from the digital download or the DVD version